---
Saathi
India-based biodegradable sanitary pad maker wins Nikkei Asia Award
AHMEDABAD, India -- An Indian startup that makes biodegradable and compostable sanitary pads has been named winner of the Nikkei Asia Award for its unique technology and potential benefit to society, Nikkei announced on Tuesday.

It was Kristin Kagetsu's passion to work for a sustainable environment and underprivileged women that brought the American of Chinese and Japanese descent to India.

The Massachusetts Institute of Technology graduate developed the concept with co-founder Tarun Bothra, leading them to establish Saathi -- a Hindi word for "companion" -- in Ahmedabad, in the western Indian state of Gujarat.

That was in 2015, and Saathi now produces sanitary napkins from locally sourced banana and bamboo fibers as well as other natural materials.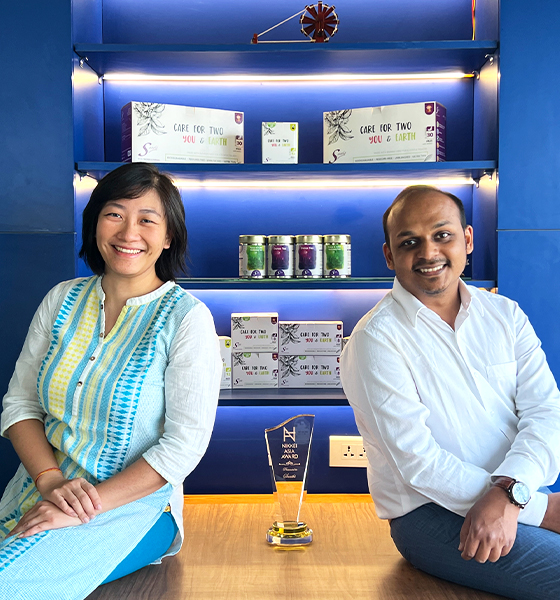 KRISTIN KAGETSU [Saathi CEO]
TARUN BOTHRA [Saathi CTO]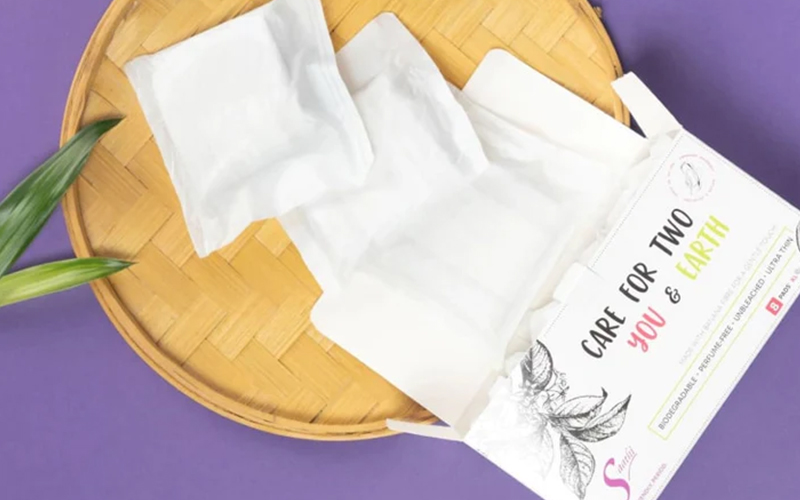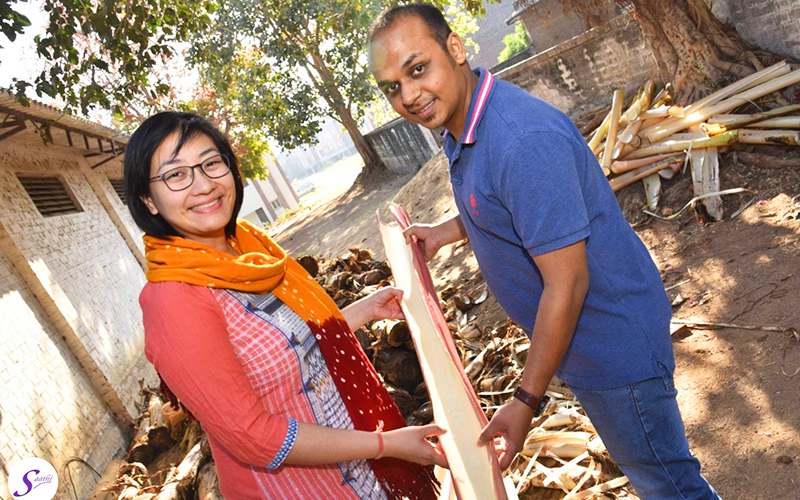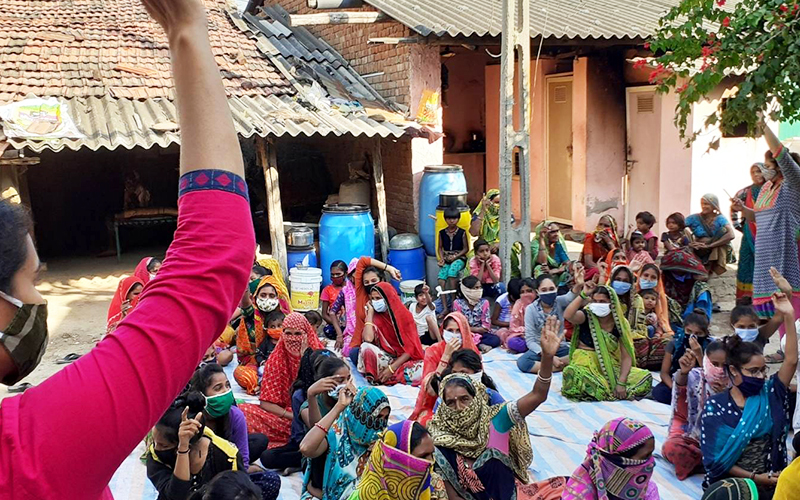 Kagetsu first visited India while still at MIT as part of a project to help a nongovernmental organization develop natural dye crayons in the country's northern Uttarakhand state.

"I learned about the lack of access to menstrual products [in India] when I started working on Saathi," Kagetsu told Nikkei Asia in an interview.

She said she felt this was something that needed to be addressed because in 2015 only 18% of women in the South Asian nation had access to these products, a figure that has since doubled, though the majority of Indian women remain uncovered.

"Coming from New York, where you could find sanitary pads easily in the pharmacy, grocery store, etc., this was quite shocking," the 33-year-old said. "That's a very big gap [to fill], and [we thought] maybe we can find a way to make an impact."

She and Bothra, who graduated from Gujarat's Nirma University, both studied mechanical engineering. The partners decided to apply their engineering knowledge and problem-solving skills to help fill that big gap, though in a sustainable way, "without creating plastic pollution," while ensuring proper waste management.

Saathi says its napkins are 100% natural and far more comfortable. When disposed of, Saathi pads degrade within six months -- 1,200 times faster than their plastic progenitors.
---
Bothra, 30, who hails from the northwestern state of Rajasthan, said he met Kagetsu for the first time in 2015 at Nirma University. Having recently graduated, he was helping Kagetsu find an engineer who could work with her to make a machine for producing sanitary napkins at a minimal cost. When he realized the idea had the potential to fill a need and make an impact, he found himself drawn to the Saathi project and excited about the prospect of working toward a more equitable future for women.

"Why can't a new-age man be different from his ancestors?" he responded when asked what made him choose this over his family's cloth manufacturing business. He acknowledges that until he interacted with Kagetsu he did not know that a pad -- a basic hygiene product -- could matter much to women to carry out routine work without discomfort when they menstruate two to seven days a month. He was also unaware that pads help maintain menstrual hygiene and reduce reproductive and urinary tract infections.

Kagetsu says she and Bothra developed the Saathi concept together. She chose to set up the company in Gujarat -- the home state of Indian Prime Minister Narendra Modi -- because it is "a good manufacturing hub" with business-friendly government policies, she said.
Saathi, which also produces limited numbers of reusable menstrual cups from medical grade silicon, employs an all-woman team of 16 at its manufacturing facility about 20 kilometers from its headquarters in Ahmedabad. It also engages with women from nongovernmental organizations to distribute free pads in underserved villages.

The initiative, which began in 2017, focuses on villages where poverty-stricken women resort to rags, clay and tree bark to manage their periods, risking their reproductive health. "Some places [they] didn't even have undergarments," Bothra said. "So forget about using pads."

The company this year gave away its 1 millionth pad.

Bothra said the company aims to raise $1 million within six months, then set up a second production line that is fully automated to expand the production capacity.
---
"So, the idea is to be able to scale in a way where every time I sell one [pad] in an urban area, I'm able to donate one in a rural area," Bothra said. "Today we are not able to do that because we're not at that scale, but we donate as much as we can."

He declined to reveal the average cost of manufacturing a single pad, but their biodegradable napkins sell for 10 rupees to 30 rupees, depending on size. Popular plastic pads go for anywhere from 5 rupees to 22 rupees.

The Indian sanitary pads market is expected to reach about $1.2 billion by 2027, up from $618.4 million in 2021, exhibiting a compound annual growth rate (CAGR) of 11.3% from 2022 to 2027, according to market research company IMARC.
Global brands such as Procter & Gamble's Whisper, Johnson & Johnson's Stayfree and Unicharm's Sofy are popular in India, but Saathi is trying to expand its market presence. Its products are sold across India, online and offline.

Saathi also sells its pads in the U.K., Kuwait, Brazil and Uruguay, with Malaysia and Indonesia showing interest. "We are international now," Bothra said, and "it's been a year [since the pads first went on sale abroad], I guess."

Bothra added that about 55% of sales are domestic.
---
The company is also trying to help poor farmers improve their financial situation. It has a database of about 60,000 farmers for sourcing raw materials and has so far contributed about $80,000 to their income. Saathi aims to take this number to $5 million by 2027 and help farmers go completely organic, which could help them charge more for their crops.

That may not be "a direct money contribution from us," he said, "but eventually [it would be] making a farmer self-sufficient."

Among the hurdles in front of the company is a taboo against discussing menstruation. Kagetsu said Saathi is trying to surmount this barrier by generating awareness around and educating people about menstrual hygiene through workshops and discussions.
Women often do not discuss their periods openly, especially in rural settings and when men are around. "So, [basically it's about] trying to get through as many channels as possible so that you really can hear about this and explore," she said.

As for future plans, "the big picture," is sustainable manufacturing, she said. "If you kind of look at how we talk about even the company, a lot of emphasis is on our impact, and so we are addressing U.N. Sustainable Development Goals."

Saathi claims to be the only company making 100% compostable and biodegradable pads in India and globally, and says it has patented the materials it uses as well as the technology and machines -- about which it does not disclose much. "We kept a lot of it as a trade secret," Bothra said, and "that's why we don't allow any factory visits as well."
Remarks from the Chairman of the Advisory Board
Business Development Consistent with the SDGs Philosophy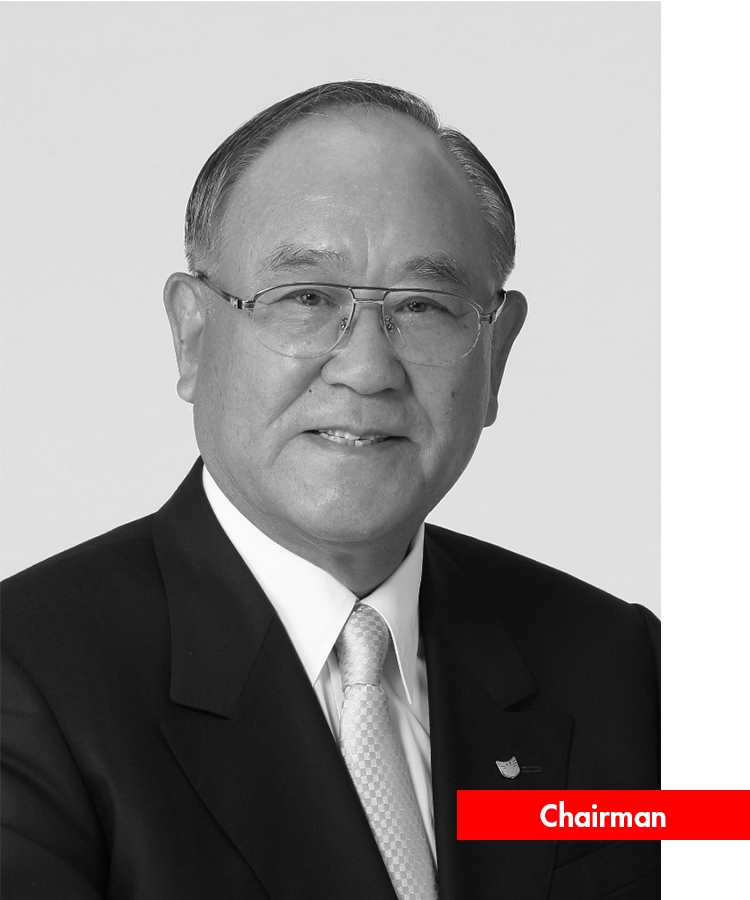 Fujio Mitarai
Chairman & CEO / Canon Inc.
Saathi, India, was selected as the winner of the second Nikkei Asia Award from among more than 400 nominations received from countries and regions throughout Asia. Through the supply of sanitary products for women, the company is an innovator that addresses various social issues while aiming to improve public health, an important issue in the region.

The promotion of sanitary products is one of the most urgent issues in the field of reproductive health worldwide. The COVID-19 disaster brought attention to the issue of "menstrual poverty," the lack of access to sanitary products for economic reasons. The situation exists in both developed and developing countries, where it is a barrier to commuting to school and working, and there is no need to wait.

While the environmental impact of plastic products has been pointed out, the products supplied by the company can be biodegraded and composted, and the company is also pursuing user comfort. The company's business development with an awareness of the impact on a circular economy and health is also in line with the principles of the United Nations Sustainable Development Goals (SDGs).

At the same time as high value-added products, the company also offers low-cost versions for low-income consumers. The company's consideration for the disparity in society is also reflected in the enthusiasm of the founder to leave no one behind. In addition to the products themselves, the company's efforts to empower women through business, including the employment of women in production, are also commendable.

We have high expectations that the company's business will expand from Asia to the rest of the world and achieve growth. The Nikkei Asia Awards will continue to grow with the winners, and we will continue to shine a light on promising entrepreneurs and activists in the next and future editions. We would like to ask for your continued enthusiastic support and nomination of promising candidates.
Who's Next?
Nominations are welcome from anyone who knows about worthy candidates. You may nominate candidate via our nomination form. Self-nominations are not accepted.